In this article are special Apps that can earn you Free Airtime to call all networks and some of these apps are also giving out free data. The great thing is that not only that you can use the free airtime to call alone, you can transfer, sell or convert the free airtime to data.
These Apps are user-friendly, they do not use your data and don't drain the phone battery. The App works on both Android and iOS.
Apps that Give Free Airtime
Number one on the list below is a chatting App, that is rewarding its users with free airtime, and absolutely free calls to all networks. You also get a chance to win a free iPhone from this App every day by 9:00 pm Nigeria time
1. LetsChat App
Follow these simple steps to register and participate in the LetsChat Women's Football event:
Download the LetsChat app for Android or iOS devices.
Install the app and open it to begin the registration process.
Sign up using your mobile number, verify the OTP (One-Time Password), and set up a username.
Once you're logged in, locate the "Discover" option at the bottom left corner of the app and tap on "Shoot for iPhone."
Make a 30-second call to any of your friends to receive a free shoot. Answer the following two questions to earn free N50 airtime three times.
After completing the Airtime Task, the golden opportunity to win an iPhone arises at 9 p.m. every day. Make sure to return to the app and test your luck during this time.
You can go on to read details on how to make money on the LetsChat App quickly.
As stated earlier in the post, LetsChat free airtime can be used to buy data or transfer out to friends and family. So get the free means to make free calls and browse the internet on your phone.
2. myMTN App
The myMTN app is a free and simple mobile app that gives you complete access to easily manage your account. Part of the benefits of myMTN app is that you can enjoy exciting data offers, track your data usage, buy airtime, share data, and stay up to date with lifestyle content.
With myMTN App, you can get yourself free data but not free airtime. This I explain in my previous article on how to get 2GB free data on MTN via (My MTNApp)
Recommended Articles for free Airtime and Free Data
3. ClipClap App
ClipClap App is a social platform majorly for entertainment and earning money that can be withdrawn directly to your PayPal or converted to airtime then be used for calls or to buy data.
Sometimes in the Clapcoin Store, there are special offers for new members that allow you to exchange coins for cash at attractive prices, you should not ignore that offer.
You go to the "Rewards" Tab in Exchange and click on "More"
Click the "Cash Exchange".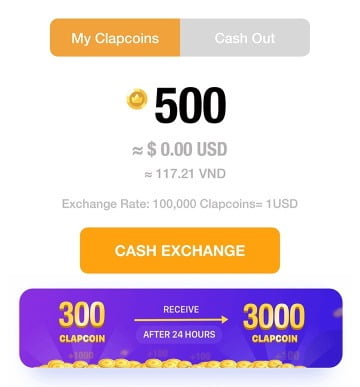 Select the number of coins to be exchanged for money and press the "Exchange"
Select the savings plan and then click the Buy button.
See how to join ClipClap App and start to make free airtime and also see the secret of making up to $75 for free.
How to Make Money with Your Phone For Free
If you find this article useful, please help to send it to your friends and family. Let them all also benefit from this article. There is love in sharing, as we know that sharing is caring.
You share and like encourage us to serve you better. Try sharing this article with your loved ones. I truly appreciate your kind gesture for sharing this article.