This is not a cheat but a few tweak that you can use to get up to MTN 50GB Free Unlimited Data depending on how greedy you are and it is absolutely for free through My MTNApp. All you need to do is to download My MTN App from PlayStore or Apple Store and then follow the instructions below.
Before I proceed, we all knew that MTN gives out free 500MB for using their My MTNApp and remembered that I shared it on this site, how to get MTN free 2GB through the My MTNApp. But this is an update of that post. I will not be sharing the basics here again, but it's important to read that before getting up with us here.
So, you can read on how to get 2GB free data on MTN via (My MTNApp)
Thanks to Shelaf for sharing this with me, as I will be showing you in detail how to tweak and get MTN 50GB Free Unlimited Data, this requires just two MTN SIMs, be it new or old ones.
Important announcement: I am sorry for diverting your attention but I think this is necessary to share with you as a bonus for visiting my site. For you to know how important this is, I shared this piece of tips on only 10 highly viewed posts on my site and thank God for visiting one of them today. See detail of the secrets I wish to share at the end of this post below.
How to Activate MTN 50GB Free Unlimited Data on My MTNApp
I will like to assure you here that this work for all device, and you can use the data for downloading, streaming, and surfing the internet and what have you, at no cost.
Recommended Just for You
Just follow up with me on getting MTN 50GB Free Unlimited Data through My MTNApp
The process includes four things, these are
Getting two MTN sim card (both of the SIMs can be old or new)
Download the app called MyMTN App from Google Play Store (only if you are yet to install it)
A good internet connection and
Your patient and focus are highly needed.
How to get Free 50GB Data on MTN
Please follow the simple steps below
Turn on your data connection and open the MyMTN App.
Note: Make sure one of the sims has not been registered with the MyMTN app and find an extra phone and insert the MTN sim card that new to MyMTN app into that phone.
Now, login to your MyMTN app with the SIM that has already registered on the MyMTN app.
You will be sent an OTP password when you try to log-in.
After you have successfully login, click on the menu tab that can be located at the top left corner of the app.
Then, scroll down to Free Data in the menu option and click on it.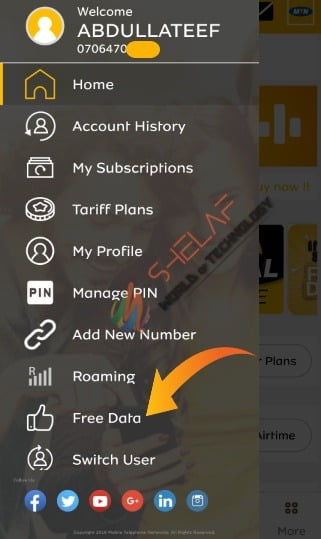 You will be provided with a page to invite new numbers to join MyMTN app.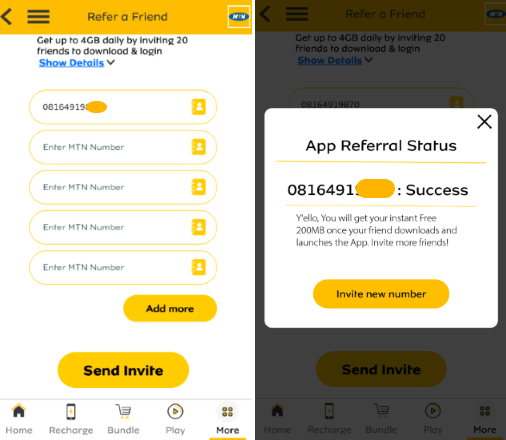 Now input the mobile number that is on the other phone and tap on the Send invite button.
If the invitation is successful, you will be told that you will be given free 200MB when the person you referred does a successful registration on the app.
Now, log out from the app and log in with the second mobile number.
I believe you are getting it, as I used the images above as guide in other to make my explanation clear
Now How to Tweak and get to enjoy MTN 50GB Free Unlimited Data
This is where you need to be cautious on this tweak of getting MTN 50GB Free Unlimited Data. Please follow the steps carefully. Now request for OTP, and once it is sent, input the OTP and Proceed.
I repeat be patient and focused, don't rush. Now, a pop-up message will display on the screen. This is the main part of this cheat, don't click anything yet.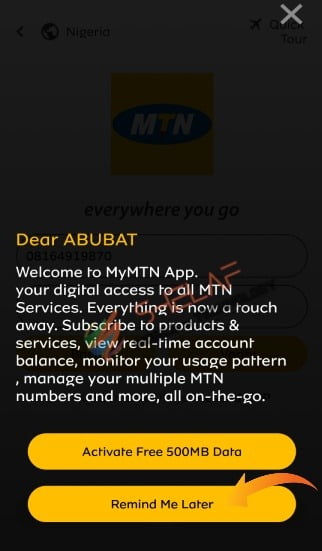 Read the message and click on the Remind me later button, once you click it don't relax at all, quickly click on your phone back button again.
Don't let it load, repeat the same step, again and again by clicking the remind me later button, and then click your phone back button.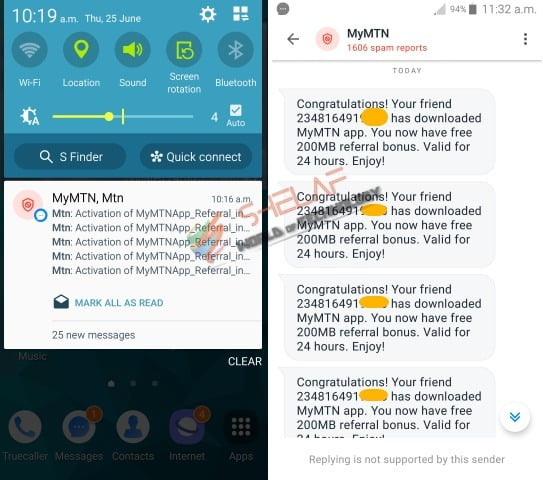 As you keep doing it, your other line will keep accumulating with more refer data bonus, which is 200MB per successful click. You can accumulate the data up to 50GB, then you get MTN 50GB Free Unlimited Data just like that.
You just need to focus and don't let it process before you click the back button.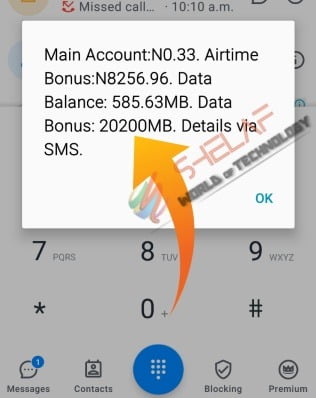 It is simple as that, check your data balance with *556#
NB: the data is valid for just 24hrs once you finish accumulating the data go straight and download movies and files that you might need with the free data you accumulated. With this, you can exhaust the MTN 50GB Free Unlimited Data.
The tweak is tested and confirmed working before posting. It's still fresh, so go ahead now to accumulate your own unlimited free data of MTN 50GB Free Unlimited Data.
Please don't forget to share these laudable tips with your loved ones
Bonus for making it to this stage
Also, Read on
As I promised I will share with you for making it to this part of the post, a trending App that people now use to make money daily. You might have heard of the SHAREit lite App, it is no more a new App for transferring files, cleaning junk on file, making money for playing games and the likes, But I and my friend just discovered 5 ways to make up to N50,000 with SHAREit lite App see details here