As communication is vital in human endeavour, it's now left for us to get the appropriate channels of doing so. It worth to use the best network with wide coverage like MTN which are always every you go. And with Best MTN call-tariff plans, the sky is your limit.
However, MTN leads the way both in call tariff plans with eye-catching bonuses and cheapest call packages and as well as nationwide coverage 4G LTE and the new 4G LTE+.
I will be sharing with you all the best and top MTN tariff plans and their migration codes and their benefits in no time soon.
Cheapest MTN Call Tariff Plans
Everyone love affordable and satisfactory service from all our network providers, and I believe from my study that their all trying not to let us down.
Just few years ago MTN came up with a lot of call tariff plans with call rate that suit your purpose. Among them are:
MTN Pulse
Startpack
AWUF4U
Xtravalue
BetaTalk
mPulse
XtraSpecial Prepaid
Welcome Back offer among others.
Best MTN Call Rate in Nigeria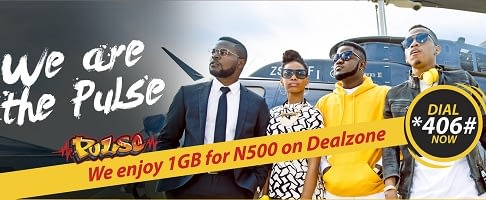 The MTN Pulse Plan
Pulse tariff plan is a prepaid tariff plan for all MTN users, MTN Pulse allows you to enjoy a FLAT rate of 11kobo/sec for calls ALL networks in Nigeria. It comes with the condition of spending N10 daily. And all calls for that day will be at 11k/s.
Benefits of MTN Pulse is that the subscription package comes with 1GB of data for just N500
Music streaming on Music+ at N10/day (To subscribe to Music+, send M to 5900) in an SMS
Happy Hour night browsing at N25/day
100% data bonus on purchase of 500MB weekly bundle
Data bonus on recharge And
Plus other life-enriching products and services from MTN
See below subscription codes section for more details
MTN XtraSpecial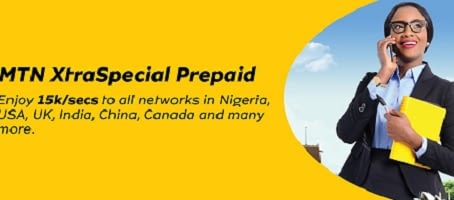 XtraSpecial comes in two forms, the Postpaid and the Prepaid package. This tariff plans from MTN offers you call at Flat rate of 15k/s, the good news is that no hidden charges attract. And you still get 50% data bonus on a monthly bases.
Other benefits are:
15kobo/sec call rate goes for MTN-to-MTN calls, MTN-to-Other networks and
To 18 selected international destinations from the very first second.
50% Data bonus on Every purchase of N2000 monthly bundle
Plus other exciting products and services.
| | |
| --- | --- |
| Eligible destinations | Canada, China, Germany, India, Ireland, Malaysia, South Africa, United Kingdom, United States, Sweden, South Korea, Israel, Hong Kong, Romania, Denmark, Cyprus, Malta, Luxembourg. |
Top Best Call rate to all Network in Nigeria
If you are in the categories of those who call a lot the MTN BetaTalk is meant for you. With BetaTalk you get a rewards of 250% bonus airtime on every recharge of N100 and above.
Customers will be rewarded with 150% bonus airtime on every recharge below N100.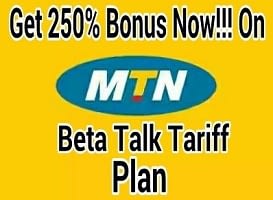 Calls within Nigeria are charged at the rate of 42k/sec from your main balance and
45k/sec from the bonus account.
The subscription code for MTN BetaTalk can be found below
MTN Yafun Yafun: Upgrade to free Airtime & Data
Yafun Yafun from MTN offers more than Best MTN call-tariff plans but more bonuses both on Data and Airtime.
Enjoy 700% bonus on EVERY recharge of N100 and above, plus free access to WhatsApp weekly
Other things to get on MTN Yafun Yafun are:
The airtime bonus can be use to make calls and send SMS to ALL Local Networks in Nigeria.
You will be able to browse the internet on Pay As You GO rate with the airtime bonus.
The airtime bonus is valid for 7 days.
You will receive the 700% bonus on ALL your recharges for a period of 3 months.
After 3 months you will stop receiving the bonus on your recharges and the system will automatically migrate you to MTN BetaTalk tariff plan.
Best MTN call-tariff plans (MTN XtraValue)
If you prefer more Airtime than Data or vice versa when Data is more important to you than Airtime. Then you are expected to subscribe to Xtravalue.
Below are benefit to get on Xtravalue packages which include XtraTalk and XtraData. Read all the full Data & Airtime Benefits of XtraValue on this link
XtraTalk plan
| | | | | | |
| --- | --- | --- | --- | --- | --- |
| Size | XS | S | M | L | XL |
| Cost | N300 | N500 | N1000 | N2000 | N5000 |
| Airtime Value for Calls | N975 | N1,950 | N3,875 | N9,750 | N24,500 |
| Data Value | 50MB | 100MB | 312.50MB | 625MB | 1,666.67MB |
Latest update on XtraTalk comes with more three (3) mouth-watering packages. Check them all out here now
Meanwhile, Xtradata gives more data than Airtime for the lovers of browsing and surfing of the internet. Get more details on how to get 1GB data + N1000 on XtraValue here
| | | | | | |
| --- | --- | --- | --- | --- | --- |
| Airtime Value for Calls | N372.00 | N624.00 | N1,275 | N2,560 | N6,500 |
| Data Value | 150MB | 300MB | 750MB | 2000MB | 5000MB |
AWUF4U on all MTN SIM card (Best MTN call-tariff plans)
Truly is an AWUF 4 U with 4x times recharge bonus on all recharge you made with recharge voucher or VTU and not any other recharge channels.
You only need to recharge with *888*PIN# or via VTU and get a bonus of 200% on any recharge below N100 and enjoy 300% on all recharge above N100.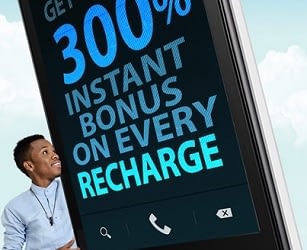 Benefits on Awuf4u are
Calls to ALL Networks in Nigeria
SMS to ALL Networks in Nigeria
International call to 18
PAYG data browsing
SMS capped at 75 SMS weekly
Let take for instants
If you recharge with N100, you will get N400 in Awuf4U account i.e. N100 (recharge value) + N300 (bonus)
And If you recharge with N400, you will get N1,600 in Awuf4U account i.e. N400 (recharge value) + N1,200 (bonus)
See all the 18 eligible countries under the subscription code below
Subscription code for all MTN tariff/Pricing with Best MTN call-tariff plans
MTN Pulse text 406 to 131 or dial *406*1#
(Subscribe to 500MB weekly bundle by sending 103 to 131 or by dialling *406*2*2# and the bundle fee of N500 will be deducted. You will then receive 1GB in your account. You can check your bundle balance sending 2 to 131 or by dialling *131*4#)
The bundle is valid for 7 days after which it will be renewed.
MTN XxtraSpecial
*408*1# Send 408 to 131
N4 to All Networks in Nigeria
*123*2*3# or Text 408 to 131.
Migrating into Xtraspecial tariff plan if it is your first time in 30 days. Subsequent migrations within the same month will attract an N100 migration fee.
MTN BetaTalk
Dial 1232*1# or SMS BT to 131
Also Note
Migrating into BetaTalk tariff plan if it is your first time in 30 days. Subsequent migrations within the same month will attract an N100 migration fee.
A customer on the BetaTalk tariff plan is not eligible to send airtime via Share and Sell. You will be required to be on any other tariff plan to enjoy this service.
All customer would lose the bonus balance if they migrate from the BetaTalk plan. The bonus is only available for use when you remain on the BetaTalk plan.
Yafun Yafun by MTN
Recharge from N100 and above airtime value by dialling *555*digits PIN# and automatically receive 700% bonus.
To check your 700% bonus balance, simply dial *559*43#.
Xtravalue Subscription codes (Best MTN call-tariff plans)
MTN XtraTalk
| | | | | | |
| --- | --- | --- | --- | --- | --- |
| Text | V300 to 131 | V500 to 131 | V1000 to 131 | V2000 to 131 | V5000 to 131 |
| Or dail | *131*2# | *131*2# | *131*2# | *131*2# | *131*2# |
XtraData (To subscribe for extra data send or dial your prefer plan with the codes in the table below)
| | | | | |
| --- | --- | --- | --- | --- |
| D300 to 131 | D500 to 131 | D1000 to 131 | D2000 to 131 | D5000 to 131 |
| *131*2# | *131*2# | *131*2# | *131*2# | *131*2# |
| | | | | | |
| --- | --- | --- | --- | --- | --- |
| Validity | 7 days | 7 days | 14 days | 30 days | 30 days |
Best MTN call-tariff plans
| | |
| --- | --- |
| Selected International Destinations | USA, UK Fixed, Italy, France, Hong kong, Singapore, India, Australia Fixed, Canada, China |
MTN AWUF4U
Countries that are eligible for 4x times Awuf bonus are
South Korea
Cyprus
India
Denmark
Canada
South Africa
Israel
China
Germany
United Kingdom
Hong Kong
Malta
United States
Romania
Ireland
Luxembourg
Malaysia
Sweden
Differences between AWUF4U and MTN Yafun Yafun package (Best MTN call-tariff plans)
| | |
| --- | --- |
| Yafun Yafun | AWUF4U |
| acttivation code *555*PIN# | *888*PIN# |
| Bonus benefit 6x times reward | 4x times reward |
| Call all network only in Nigeria | Call all network in Nigeria & 18 countries in the world |
| Free WhatsApp Access for days | No Free Access to WhatsApp |
| Validity is 7days | Validity is 14days on recharge blow N200 and 30days validity for recharge above N201 |
The above are some of the benefits and differences among others not mentioned here.
All MTN tariff Plan with 11k/s Pricing (MTN Pulse & MTN XtraPro)
| | |
| --- | --- |
| MTN Pulse | MTN XtraPro |
| 11k/s | 11k/s |
| N10 Access Charge daily | N5 Access charge daily |
| 1GB data for N500 weekly data plan | No weekly data plan |
| No any fitness benefits | 7 days Free subscription to Health and Fitness service |
| To join Pulse dial *406# | MTN XtraPro, text 401 to 131 or dial *401# |
I will be capping it all with one package from MTN with 2000%
MTN Welcome Back Offer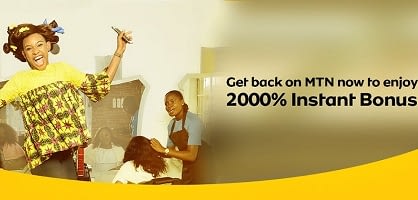 The MTN Welcome Back Offer is a 3 months recharge offers of a reward of 2000% bonus.
You can be eligible if your MTN has been inactive for calls, text, browse or what have you for 45 – 180 days
Get your unsued MTN sim and Re-activate it back by recharge a minimum of N100 and enjoy 2000% bonus on your first recharge
Best MTN call-tariff plans
MTN is welcoming you all back with magnificent bonuses.
The good news is that the bonus works for the period of three (3) months. And 2000% (20X) bonus on recharge of N100 and above with maximum recharge of N1000.
How the bonus work on MTN Welcome Back Offer
1st Month
2nd-month
3rd Month
Offer
2000% bonus on recharges between N100 – N1000.
2000% bonus on recharge of N100/N1000 ONLY
2000% bonus on recharge of N100/N1000 ONLY
Validity
N100 – N500 15 days
N501-N1000 30 days
15 days
15 days
How Your Calls and Data is Charged
National calls default tariff plan rate is 80kb/sec (N48/min),
National SMS at the default tariff plan rate is N4/SMS capped at 75 SMS weekly and
Data at the default tariff plan rate is N5/MB.
To check your balance
dial *559*65#.
Smile the cheapest network to call from home & abroad
Talking about call tariff in the country (Nigeria), someone can conclude that all the networks provider are doing great. This can be simply traced to the competitive nature of the telecommunication companies in the market. Then have you heard of Smile network? The smile is a network provider with cheapest call rate, for when you are at home or abroad (both local and international). One of the best alternative to all other network Roaming packages.
This post is not a sponsored post neither for a referral purpose, but when I search through online recently, I couldn't find any website that wrote on the aspect I am about to discuss for years back.
What is Roaming
Roaming according to Wiki it refers to the ability for a cellular customer to automatically make and receive voice calls, send and receive data, or access other services, including home data services, when travelling outside the geographical coverage area of the home network, by means of using a visited network.
I believed someone will be cleared by now, that this write up is purposely for international call rate being charged on Nigerians traveller abroad when making calls, browse, send and receive messages and much more.
Let me start my discussion by briefly show you the various unpalatable conditions by other network providers in Nigeria.
Roaming rate by MTN
As at the time of making the post, there is no monthly fee, no connection fee and no deposit required before you can roam. However, the cost of making and receiving voice calls or sending SMS while roaming abroad depends on the country you are visiting.
For example I tried to make call sometimes ago when I travelled and had a stopped over at Ethopia, and the call rate was N1,500 per minute.
"MTN will tell you, the charges depend on their partner in your visiting country with various networks in many countries to offer your international roaming and the list is ever growing.
Well the call rate can as well be as low as N150 per minute
Roam on Glo
The Glo roaming condition is that: To set up roaming on your contract line; you need to visit any of Gloworld outlets countrywide and pay the subscription fee of N50,000 Naira 2-3 days before your trip.
As at the time of making this post, I think Glo want to kill their customers for travelling with their sim/line/network.
On doing that, you only need to top up your credit with the desired amount you wish to spend during your trip. Be sure to find out about Glo Prepaid Roaming Coverage in your travel destination.
Airtel calls their package smartRoam, is either you take it or leave it, as it works in just 5 selected countries, as at the time of making this post. meanwhile, this can change as time goes on.
smartRoam is a product that allows Airtel subscribers to receive free incoming calls while roaming on 10 networks in 5 countries after recharging N5,000 and above in a month. The N5,000 and above can either be for a single recharge or cumulative recharge within one calendar month.
The consumer will have access to 300 free incoming minutes; while SmartROAM users in the UAE and Saudi Arabia will enjoy only 100 free incoming minutes.
S/N
Countries
Network
1
Saudi Arabia
Zain
STC
2
South Africa
Cell C
Vodacom
3
United Kingdom
Orange
Telefonica O2
Vodafone
4
United State of America
AT&T
5
United Arab Emirates
DU
Etisalat
*NOTE: The free incoming calls will only be valid for 30days after the subscribers recharge hit N5, 000. After 30 days the subscriber will have to recharge again in order to receive free incoming calls.
9mobile roam
Prepaid customers can make and receive calls and SMS in over 80 countries and count. meanwhile, postpaid roaming customers can browse, make & receive calls in over 300 networks across 160 countries.
9mobile like their Glo counterpart with a killing demand, the condition includes
confirm the tariff for your destination.
make an N50,000 deposit online (payment guide) or visit at any experience centre nearest to you. view the nearest store.
confirm your line has been activated for roaming.
roaming activation Steps for commonly used devices.
how to switch network at your destination.
Now what does SMILE network offers
Currently, I am not in Nigeria, as at the time of making this post. Smile a network provider in Nigeria has been our saviour from the hand of those unarmed robbers like the Glo, Airtel, MTN and 9mobile for some of us in abroad.
This is a typical example of what we experience and what I personally experience some days ago,
You know what, I had stop using the MTN, even for recieve call, as I will to be charge N60 per minute for any call I recieve from Nigeria, and the outgoing call rate in the country I am to Nigeria is N150, SMS for N40, I can say that is even the cheapest. And without minumum balance of at least N60 on your line, you will not be reacheable from your calls 🙄

Anyone calling my MTN will also be charge at N150 per minute
When I got the SmileVoice network here are some of the benefits I have been flenjor with
It works in all countries of the world
On smile network, you receive all calls for free (No hidden charges)

You make calls for 1okobo per sec (To all networks in Nigeria)

It is a Nigeria network like others telecommunication companies (MTN, GLO, AIRTEL, 9mobile)
Free calls to another smile network every month
You can recharge from your bank easily & directly
You can recharge through their website and
Also through the help of their staffs without any charges (Free)
My last recharge of N1000 gave me 180-minutes call duration
Comes with lot of Freebiz
You can add up more top up
Best internet services
You can receive free SMS on your roam line
Do you still want to be enslaved by this roaming package? when you can make a call at N6 per minute to all network from home and abroad
Are you a traveller or your friends, lovers and parent then stop to wasting your money on those monsters network and embrace smile network before your next trip
Guess what, you can as well get the smile number activate even without you being in Nigeria, your number can send to you through whatsApp, mail or SMS and start to enjoy stressless call rate. Smile the best network to call from home and abroad
Note: the roaming rate might varies by those networks
This post is from my personal experience and other sources on the write up are provided with necessary links.
The source for this post is from the website of the variously listed network provider above and my personal experience. All these are subjected to by network providers change as time goes on
Share and ask your question in the comment box below
Let me know what you think on this Best MTN call-tariff Plans, comment down below.