I was shocked when I saw this Glo Mega Data Plans of 1TB for the duration of 1 year and at a whooping price of N100,000. How on earth would common people go for such price of a data plan, and my question is what is Glo Nigeria up to.
The fact remains that the Glo Mega Data Plans are high-end plans for customers who have the need for higher data benefits with higher validity. Meaning this is for customers who need higher data with longer validity.
See What's new on MTN Topit, the former MTN VTU (Its 4 benefits)
See below justification for the Glo Mega Data Plans and for whom the plan is meant for. Meanwhile, on this page, I will recap some of the cheap Glo Data plans and Free data tweak by the end of this write-up.
Glo 1TB Mega Data Plan for Heavy Data Users
The new proposed Glo Mega data plans starts from just N30,000 and goes all the way to N100,000 only. The Mega Data did not come with night data bonus. However, the validity of N60,000 and N75,000 will be 120 days and the validity of N100,000 will be for 1 year.
The table below explains the Glo Mega Data
| Plan Price (N) | Validity | Glo Mega Plan |
| --- | --- | --- |
| 30,000 | 30 days | 225GB |
| 36,000 | 30 days | 300GB |
| 50,000 | 90 days | 425GB |
| 60,000 | 120 days | 525GB |
| 75,000 | 120 days | 675GB |
| 100,000 | 1 year | 1TB |
Airtel Cheap Data Plan & Latest Update on Airtel Free 1GB Data
Also Read
3 Ways to get Free MTN Data on all New SIM
How to get 9mobile 1GB Double Data for 12months
According to report on ThisDay, The company Globacom said in a statement released in Lagos that the new plans are meant for Home Broadband users such as Small Office Home Office (SOHO) and SME customers as well as high-end customers who have the need for higher data benefits with longer validity periods.
Grandmasters of data, Globacom, has moved to address the needs of heavy data subscribers for reliable and affordable internet service with the introduction of Glo Mega Data Plans.
"With the Covid-19 situation, millions of people rely on the internet to work or study from home, carry out most business and social transactions, hold meetings, seminars, religious worship, among other activities. We have introduced this package to cater to such heavy data users", Globacom said.
Globacom explained that subscribers can purchase the plans by dialling *777# for plan menu and selecting "Super Mega Plans" and then choosing the plan of choice.
MTN Free 4GB Data + 100% Extra Bonus (Its Activation)
For Cheap and Better Glo Data that works for all
As I promised above, here is the recap of the cheapest and affordable Glo Data for everyday purpose. These are not new but best one people use with prove from our site readers.
To get the best of Glo, you need to buy a new SIM, as existing Glo customers get lesser data bonus, meaning to maximized the Glo bonus benefit you must get a new line.
Cheapest Glo Data Plan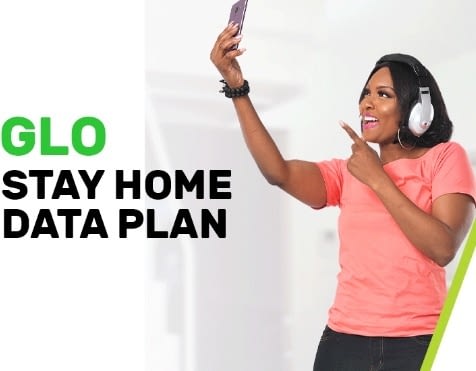 Airtel 7GB offer & How to get Airtel 8x bonuses
Glo just introduced a data plan known as Sunday Data or Glo Weekend Data Plan. The data package offers 1.25GB for just N200
This is first of its kind from Grandmaster of Data in the country. Glo once introduced Glo Slaph that offer up to 2GB for just N300. And that is the cheapest Glo data plan so far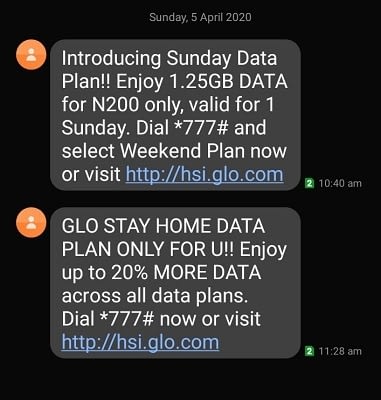 How to enjoy this Glo Weekend Data Plan & 20% More Data
Dial *777* and select your prefered plan, be it daily, weekly, Monthly and much more from the stable of Glo
Meanwhile for the Weekend Plan dial *777# and select Weekend Plan
Another from Glo is the Glo Special offer is a special data plan, made for all youths and most especially students at all higher school of learning.
This Data plan is known as Campus Booster but was just reviewed, as a change was made on all other Glo Data Plans.
6 way to save mobile data usage on phones | No App needed
The Glo Special Offer comes in two versions I will first work you through, on how to activate the Night plan that gives data plan for as low as N25.
Glo Night Data Plan
250MB
N25 / 12am to 5am
1day validity
500MB
N50 / 12am to 5am
1day validity
1GB
N100 / 12am to 5am
5 days validity
The Glo Night Data Plan, the volume can only be consumed between 12 AM and 5 AM. Read more on Glo Special Offer here.
The Glo 17GB for 30days
Do you know you can browse for just N50 in a day and N100 to obtain up to 160MB of data in the new Glo Data Packs?. As Glo 17GB is now available for grab for big data users.
Furthermore, You can also get 1.8GB of data for 14days validity period at low price N500MB for N200 is now surfacing in the Glo Data Packs that was newly introduced for 2days validation.
Glo Data Packs with Free Night Browsing Bonuses
Glo as done it again with bountiful and eye-catching data plans for budgeted prices.
Upload, Download, Stream and Chat for longer. This comes with bonus for Night Browsing.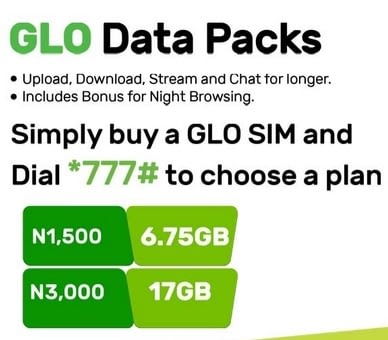 27MB
N50/1 day

45MB for New Customers
90MB
N100/1 day

160MB for New Customers
1GB,

800MB + 200MB Night
N500/14 days
1.8 GB (1.6GB + 200 MB Night) for New Customers
340MB

500MB (400MB + 100MB) Night
N200/2 days
500MB (400MB +100MB) for New Customers
For the monthly data plan, you get to choose from almost 12 packages which include the Glo 17GB data plan, meanwhile, they all based on your pocket and data usage. Study shows that the higher data plan you go for, the better your user experience.
As I clearly started earlier, to get the best of these data plan
Buy new Glo SIM card
Upgrade your smartphone or browsing device to 4G enable See the 4G Smartphones and Device that uses 4G Network here.
Glo 1GB data for N100 with 5days validity

Just like the other Glo data plan. The new Glo 1GB for N100 can be used from the hours of 12 AM – 5 AM and the good news is that it doesn't expire that day, as the validity period is 5days. This is what other telecoms are not given.
How to Activate Glo 1GB for N100

Dial *777# and follow the prompt to Night and weekend plan.

Note: even if you have an active subscription, it won't be touch once the plan is activated. Validity for this plan is 5 days usable from 12 am to 5 am.
Do you want more data and Airtime, then Glo Super Value will be okay for, as you enjoy free 2.5gb data + N7950 to browse/call.
Have Your Heard of KoboBid?
(The New Source of Making Money & Getting Phones for just N100
KoboBid offers various favorite gadgets at unexpected prices. with quality and eye-catching items such as iPhone, the latest Infinix Smartphones, Plasma TV, Games, Cars, Cash, and much more.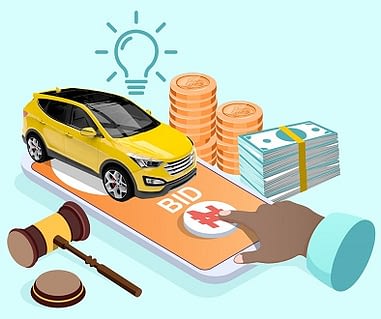 Bidding on products online can be a great way to get a discount you would not find in-store. Think how jealous your friends will be when you tell them you got your Samsung Galaxy S20 for One Thousand Naira (₦1,000) on KoboBid. Be rest assured that you will get the best value for your money.
This is a platform for buying items based on bidding of auction products.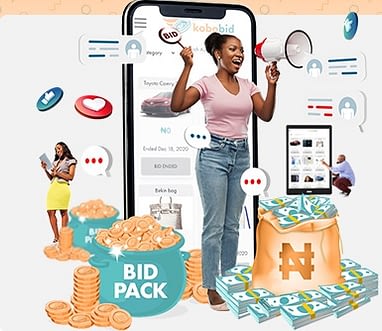 Meanwhile, on the Kobobid auctions, you can earn money as well, see how to start making money on KoboBid here