Glo is currently trying to win the heart of their customers back with blooming plans of the package both on data and Airtime plans. In one or two of my church mind post on Glo, I discussed the state of their service and what people think of the network. However, what is Glo data splash all about?
As when some of the network providers in the country believed that data is life, Glo network tagged data as oxygen. Meaning data is oxygen and we all need oxygen as a living being. Read now, All the A-Z of Glo Data Plan + how to activate 125% bonus & 6GB today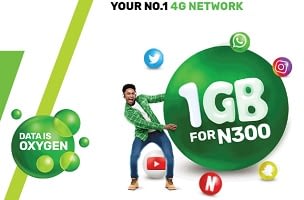 But Glo should know that with contaminated oxygen na die we go die o.

So, if data to them is oxygen as their claimed, we need better network service for our life.

Kinfoarena.com
Glo Data Plan 1gb & 2gb for N300 & N500 respectively
The self acclaimed No.1 4G Network provider and the first indigenous mobile network provider came with two (2) laudable data plan.
Glo Data Splash Plan Details
| Plan Name | Price (N) | Data Volume | Validity |
| --- | --- | --- | --- |
| Daily Data Splash 300 | 300 | 1GB | 1 Day |
| Daily Data Splash 500 | 500 | 2GB | 1 Day |
How to get the Glo 4G LTE
Step 1: Get an LTE Sim from any Gloworld, Glozone and dealer outlet nationwide.
Step 2: Get an LTE Handset or Device from Open market or Gloworld (See Glo 4G-LTE Compatible Phones).
And Step 3: Buy your Glo data plan.
4G has finally taking over, Introducing Glo 4G-LTE. Upgrade to Glo 4G LTE and enjoy SUPER FAST INTERNET SPEED WITH NATIONWIDE COVERAGE.
Glo data plans/Pricing
Talking of the currently most affordable data provider Glo wins it. Global Comm as it usually called, offer much more data volumes for much lesser prices. They also provide a self-care data management portal, the High-Speed Internet (HSI) portal where you can view your data usage, share data, buy data and gift data.
How to activate Glo Data Splash (daily)
Dial *777# or visit hsi.glo.com to buy and manage subscriptions (Applicable to mobile devices Using the Glo Bolt Internet service).