Glo Amebo is a rebranded old Airtel 5x times bonus package with recharge code *555*PIN#. Glo calls tariff plan with just the same as Airtel but with the change in its nomenclature and the major difference also comes from the recharge method of loading the Glo voucher.
Then what is Kinfovillage (Kinfoarena) for, if not to get you informed in the world of info-tech about all the latest happenings.
What is Glo AMEBO
It is a precedent airtime package of Glo Yakata (The Glo Yakata that gives best affordable that plan on Glo 4G SIM. Meanwhile, the Amebo is a talkative tariff plan, that gives you 5x times recharge bonus to call all network without any discrimination on both off-net and on-net.
The word AMEBO etymologically derived from Urhobo people (South-South) part of Nigeria, usually refer to people who talk about everything that happens as 'avwebo'.
As a result of this, other Nigerians started using the word too when referring to a notorious gossip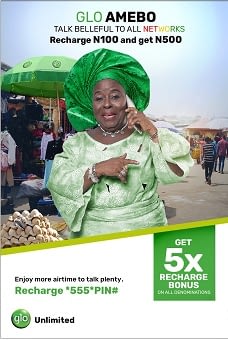 From my source, the word was fondly used is an 80's popular soap opera film the "The Village Headmaster "

Kinfoarena
According to National Mirror Online, (Avwebọ (or Amebo) is an Urhobo word meaning favourite wife in a polygamous home). The favourite wife is usually the apple of her husband's eye, and she was expected to inform him about everything going on in the household.
She had the ears of her husband and would usually report everything that happened in the compound. Including what her co-wives and her children did. The 'avwebo' also usually told people the negative things she heard about them. In her efforts to be in their good books.
The Glo Amebo translate a tariff plan that gives you the avenue to talk and talk irrespective of the network and but only limited to Nigeria.
However, if you want total freedom of text and calls on all network both in Nigeria & abroad. And even from abroad to Nigeria then SMILE NETWORK is for you. Read on how to Activate Smile Voice here in a minute.
Get 5x times recharged bonuses on Glo SIM
Talk belleful to all network with just recharge of as low as N100 to get N500. N200 earns you N1000 as so on. Start to enjoy more airtime for plenty talk time.
How to Activate Glo 5x times bonus
Recharge your Glo SIM card with Airtime voucher by dialing *555*PIN#