Taking you down the memory lane, Infinix has gained a success story on the Infinix Note series ranging from their Infinix Note 3, the Note 4 and the Infinix Note 5 and here come the Genius the Infinix Note 6 with Super functional like never beforecouples with the X PEN that powered first of it Kind from midrange smartphone.
The Genius Note 6 Design
The Infinix Note 6 device was said to be launch this month with an efficient
(Stylus X-Pen),
AMOLED screen,
Triple AI rear cameras and
All metal study fuselage style to get your hustle going and showcasing your business Style.
The Smooth and elegant with a state of emaculate appearance, the Note 6 is the latest genius device you have been waiting for. Standing elegant with younger colors. The Note 6 positions itself as a business model using all metal materials and a stylus pen to highlight its mature style.
Note 6 with multi-functional Stylus Pen

Image of Note 6 with X-PEN, Trio set of rear cameras
Note 6 Stylus X-Pen with AI + AR Functionality making it more than just a Pen
The stylus pen goes further to enhance creativity with its support for drawing, brush effect optimisation. And other intelligent transformation such as the ability to edit screenshots, telephone number identification, intelligent gesture research and smooth sharing diversification and export form.
The Note 6 Display
The Note 6 adopts the latest AMOLED luminescent material technology, which has better colour expression and better power consumption optimization. This gives a delicate screen display effect and less power consumption.
AMOLED screen has the advantage of highly controllable pixels, each pixel can be independently controlled to achieve higher contrast. In addition, power consumption can be reduced by closing unnecessary pixels when displaying a picture.
At the same time, because OLED structure is relatively simple, only four-layer structure, thinner thickness, better transmittance, is conducive to achieving higher brightness and wider viewing angle.
More Images of the Genius Smartphone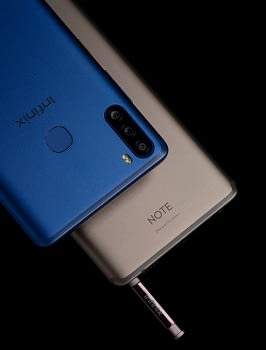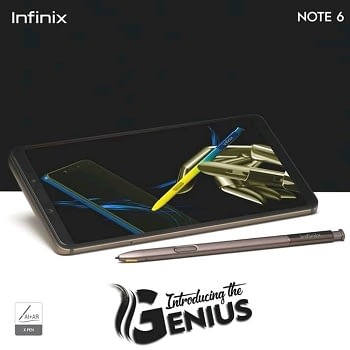 Add fuel to your photographic imagination with intelligent triple camera
In addition, is a triple rear camera feature, the NOTE 6 uses a 120 ultra-wide angle lens combination, and the three cameras perform their respective functions and cooperate with each other to realize more intelligent photographing. At the same time, it meets the requirements of ultra-wide angle/portrait/8x zoom photography, etc.
AI Selfie Front Camera of 16 Mega Pixel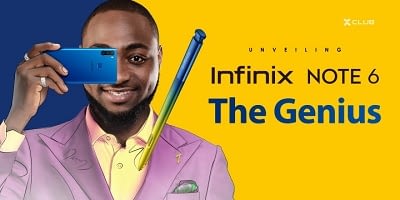 The Front 16MP AI beauty can identify up to 18 basic facial features in addition to other modes. A bigger screen gives you a bigger view.
The NOTE 6's 6-inch display allows you to enjoy both office and entertainment in full (High definition) FHD+ with am 18:9 aspect ratio screen to get you standing out in flexibility and endurance backed up by a 4000mAh battery with three days guaranteed from a single charge.
Full Specifications and Features of The Genius Note 6 (X-PEN) Stylus at a glance
Display: 6.2 AMOLED Full HD Screen
Rear Main Camera: 16+8+2Mega Pixel (with the 16MP for wide angle shot) + 2 Flash
Front Camera: 16MP Low light Selfie + 1 Flash
Input device: X PEN stylus [Al + AR] functionalities
Micro USB 2.0
Colours: Misha Brown, Aqua Blue and Midnight Black
Price for Note 6
Memory: 4Gb RAM (32GB or 64GB ROM)
Battery: 4000mAh 3days Battery Life capacity
Operating System: 5.0 Cheetah with Android 9 Pie
SIM Slot: 2 nano SIM and Micro SD card slot
Weight: 7.7mm Ultra Slim Design
Network: 4G LTE Hybride SIM slot
Processor: Media Tek Helio P35 / 8 Cores / 2.3GHz
The range of such device specification like Note 6 is always within the price tag of N60k to N75k.
I believed I had done justices to this specification since that information given here are not from Infinix mobile site.
Use the comment section below to let me know your view on:
Note 6 price
Its screen size and battery life and
majorly it processor, as many people have issues with such processor for this kind of smartphone called The Genius
Let me know if Yes or No you can get this phone for the stated price of N60k to N70k in the comment section below
I promised to let you know when it launch in Nigeria.
Source