Glo TV is the new innovative idea like the Airtel TV that comes with premium channels and movies. Glo just introduced a new entertaining channel for all their numerous subscribers called Glo Tv App
Glo TV enables you to watch live TV and movies on demand from your mobile devices or smartphones. You can get to watch popular Nollywood:
Hausa,
Igbo,
Yoruba, and
English movies.
Available to watch also are Bollywood and Hollywood movies.
Channels on Glo Tv
International TV stations such as
France24,
RT Documentary,
African Movie Channel,
Legacy Network,
Lolly-Kids,
Cinemachi-Extra and many more are also available.
How to Enjoy the Glo TV on Phone
To start using the service, please follow the steps below
You can start by visiting myglotv.com to register with your browser and select the desired packages as provided by Glo.
How to Download the Glo Tv App
The Glo TV App is available for Android and iOS smartphones and below is the where you can download the Glo App
The above link will lead you to the official downloading Glo TV App page on the Android Play Store while for Apple store and iOS users, below is the direct link for the Glo TV App.

Then install the Glo TV App on your Apple or Android device.
Just login to your created account through the username and password used in setting up your account at signup on myglotv.com
You can now start to enjoy watching your subscribed live TV or Movie on demand package.
Note that:
The service is opened to all Prepaid and Postpaid subscribers on the Glo Network in Nigeria.
Trending Post
Super Tv: How to watch best movies, shows, live TV with Zero (0) Data on Phone
Airtel Free 1GB Data to All Airtel Users (See How to Activate it)
How to activate MTN 1GB for N200 & 4GB for 30day (Its code)
Glo Data for Browsing on All Devices
Do you know you can get free one time data offer on your old Glo SIM, all you have to do is to upgrade recharge and start to enjoy:
10GB free data and
22 times bonus on your recharge
Read more on the Glo Free 10GB here
How to Activate Glo Free 5GB Data plus 22x recharge bonus
As bonus-centric Glo mobile is, here is a chance to get up to 5GB FREE data Every Month for 3 months on all Glo existing prepaid customers, who have not used their line for consecutive 30days.
The procedure is simple and fast to obtain the free data, read more here
Getting more for less amount on Glo Social Bundle
Glo social bundle comes in the same formation just like the MTN Social Package as well as Airtel Social Bundle Plan with a low amount of N20 can earn your daily data plan.
Glo is offering:
All the data that comes with N25 for the daily package can be use on social platforms like Facebook, WhatsApp and the likes. Read more on the data allotted for this and other bundles on Glo Social Plans here
Double Data on Glo, How to Activate it & Call at 11kobo per seconds
Glo Berekete offer is a plan that comes with data bonus (Double Data for all Glo users). This comes with free 700% recharge bonuses. Meaning you can as well benefit more offer and not limited to data alone.
Check out how to activate the Glo Berekete Double Data here
Glo came up with another tariff plan with 11kb/sec this is the Glo Cheapest Call rate with service charge just like the popular Glo Gbam. On the Global Comm website also comes the Glo Data Offer of 1GB Data for N300. Glo Cheap Call rate 11k/s and more will be discussed here.
I knew people still preferred the Glo Amebo that gives a lot of voice bonuses of up to 500% on recharge above N100. But with this new Glo Cheap Call rate of 11k/sec, the price plan allows Glo customers to call all networks in Nigeria at 11k/sec after deduction of N7 on the first call of the day.
Glo Data Offer of 1GB for N300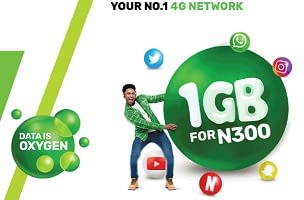 Glo as the first indigenous private Telecommunication company in the country is currently trying to lure the heart of their customers back with blooming plans of the package both on data and Airtime plans. The Glo Splash that gives Data offer of 1GB for N300 comes as an alternative to Airtel and MTN, that will be discussed shortly below.
Glo Splash Data table
| Plan Name | Price (N) | Data Volume | Validity |
| --- | --- | --- | --- |
| Daily Data Splash 300 | 300 | 1GB | 1 Day |
| Daily Data Splash 500 | 500 | 2GB | 1 Day |
dail *777# for the special data
The Special Data Plan for Airtel users, Getting Airtel 1GB for N200
This plan have be on for years now, but many people do not know, including myself not until I got a message that I should enjoy this Awoof data plan of by Airtel themselves: And coming of the Glo Cheap Call rate 11k/sec, let take about data
N100 for 200MB of data for 1day
N200 for 1GB data for 7 days
Airtel 2GB data for N500 with 14days validity period
4GB data for just N1000 and comes with 30 days validity period and
6GB for N1500 for 7days usage period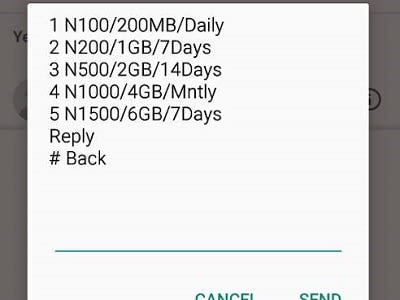 How to Activate Airtel 1GB for N200
You can activate by checking your eligibility on Airtel 1GB for N200, 4GB for N1000, 2GB data for N500. The activation code for Airtel 1GB for N200 is *141*241#. As I said the data plan is a special one, so you may not be eligible, but I know 99% of Airtel SIM's will be eligible. Read more here.
Please, Share and Like with Social Share Button below.
There is always Love in Sharing, and this motivates us to make more contents. Thanks