As at the time of making this situation report, Airtel has proven to be the cheapest and best data plan provider in the country. And here is another worth notice gesture as I tagged it Airtel Free Data
As part of the latest update on Airtel Network, I shared on this site, how to get the best of Airtel network, sure as how to get Best of Airtel Data Plan and the ugly side of it
Airtel Free Data 2020
Airtel and Glo both currently reviewed their data plans with more customer-centric and to me, the two network providers are the type to reckon with. Meanwhile, a situation like poor network or fluctuated reception can also be a major reason to put in consideration. So the choice is totally yours to decide.
Based on my studies and the previous post of mine on this channel, I will share my thought on these two network here, before proceeding to major topic of today Airtel Free Data Rollover.
Cheapest Data Plan
To the best of my knowledge, Airtel and Glo provide the cheapest and low price for mega data bundle. Let take it one after the other, starting with Best Glo Data Plans.
To this moment, for you to enjoy much data is to buy a new SIM and this is not limited to the Glo network alone but also applicable to other networks. But if you decided to use your existing SIM, then you enjoy less data bonus.
Glo Best Data Plan
On the ground of new SIM, Glo comes with Glo Yakata a plan that offers best data bonus such as:
Glo launched a new plan of 17GB for N3000 and the Cheapest Glo Data Plan with 12GB & 750MB Free Night Browsing (See its Code)
Glo is currently trying to win the heart of their customers back with blooming plans of the package both on data and Airtime plans.
Do you realized with N1000 you can get 4.6GB data with N5000 worth of voice bonus to for all network.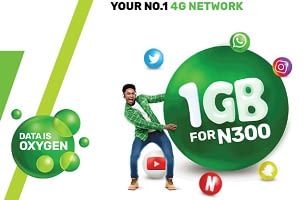 Glo Data Splash Plan Details
How to activate Glo Data Splash (daily)
Dial *777# or visit hsi.glo.com to buy and manage subscriptions (Applicable to mobile devices Using the Glo Bolt Internet service).
How to upgrade to Airtel 4G and get 4GB Free Data
One of the best favour from Airtel is that you will enjoy free 4GB Data while using any 4G devices like phone, modem, router and the likes.
4G LTE Free 4gb data
Let me quickly brief you on how to get the free 4G LTE 4gb free data
This is only or let me say currently for new activated Airtel SIM
It works only on 4G enabled devices
Its validity period is just 7days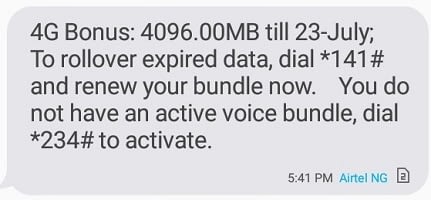 What to do to enjoy Airtel 6gb data + 4G LTE free 4gb data
Firstly, you need to set your phone network setting to 4G, if you want to use the 4gb data bonus that lasts for 7days and any other 4G data bonuses.
Meanwhile, you can also use your old Airtel SIM to get those bonus of up to 10gb data. Read this piece or buy new 4G LTE SIM to enjoy free data read this on how to activate and more.
To get all the list of 4G LTE device that works for all networks in Nigeria see them all here.
How Airtel put Smiles to their customers' faces with Airtel Free Data Rollover
It was cleared that for any unused data purchased after it expires you lose it or else you roll it over before the expiration date. And that is the only way to gain your unused data, this applies to all network except Airtel.
Airtel now gives you grace of extra days after the main validity period of your data expires. However, you will not be able to used the expired data as shown images above not until you make same subscription as that of expires then you gain back your unused data.
Meaning for instance, you can only roll over N500 data plan for unused N500 data plan. And it is not possible on Airtel to roll over an unused data of N500 data with N200 data package.
Hopefully, other network providers will follow suite.
What's your view on this development.