9mobile Recharge bonus by 9mobile was also known as the popular 9X (times) bonus on every recharge you made on any new 9mobile SIM.
9X 9mobile Recharge bonus Bonus on Every Recharge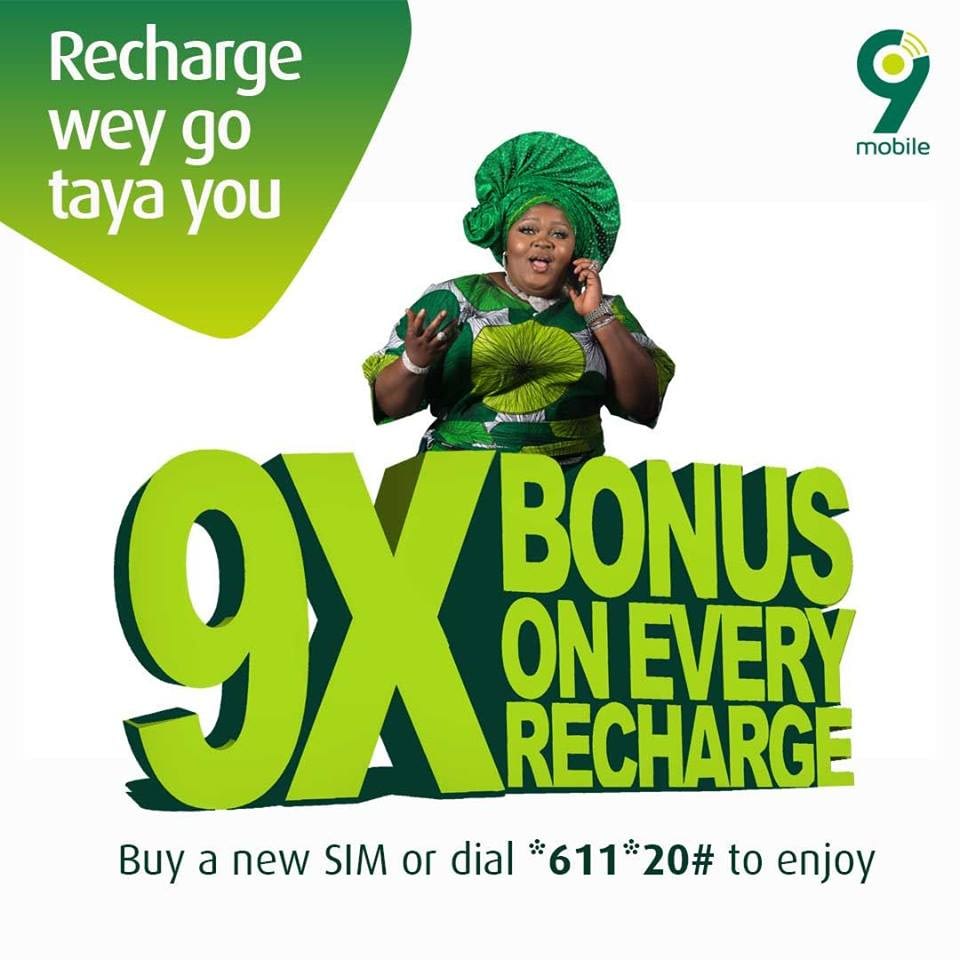 Good news my people, the most forgotten network has now come out with many unbelievable bonuses. Just in one of the updates I share with you how to subscribe to 1GB of data for just N200 on 9mobile.
Here is another great deal from 9mobile with just little recharge of N200 you earn an extra N1600. This means, in addition, to your recharge value of N200 you get a total of N1800 value.
How does the 9mobile Recharge bonus by 9mobile work?
The 9x times bonus is mainly for new SIM, with a recharge value of N200 and above. Meanwhile, for N100 recharge you get just 4x times recharged bonus.
Old SIM can also benefit from this bonus if you go for reactivation of your dormant Old 9mobile SIM card. Or by dialling the code below
How to Benefit from the 9mobile Recharge bonus Offer
Existing subscribers should dial *611*20# to opt-in and
New subscribers should simply get a new 9mobile sim, as I stated earlier it is automatically for them to get these bonuses.
How to Enjoy 9 times Extra Value on Every 9mobile Recharge
Bonus on every recharge for calls and browsing using the special string. 9x value on every recharge, every time.
Recharge your line to enjoy 900% on all recharges with a 600% bonus for calls to all networks and 300% for data.
Who can benefit?
New and existing customers on prepaid packages on the network excluding Morelife complete, Moreflex, more business, postpaid and hybrid packages
How to Activate and Enjoy the 9X value of Recharge
Recharge by dialling *911*1*RECHARGE PIN#
And to recharge any other 9mobile SIM just dial *911*1*Recharge Pin* number#
Note
Out of the 900% bonus, 300% is for voice calls and,
The rest 600% is for data.
How to activate the 1GB data on the new 9mobile
It has been clear to all the network providers that data is life. And that was the reason the new 9mobile SIM comes with auto-eligibility of 1GB of data for just N500
This special offer comes with three (3) hours for screaming. 1GB @ N500 + 3 hours for streaming is truly a special offer for new customers who get a 9mobile SIM.
Dial *253*20# to activate this extra value data.
Also, Note
The recharge bonus is valid for 5 days while 1GB data @500 is valid for 3 days. The 9x offer is open for 90 days.