MTN GoodyBag is a social media data plan that let you browse, chat, stream App for free or with little insignificant amount on either daily, weekly or on a monthly basis. MTN GoodyBag pack a lot for you. Meaning you enjoy goodies in packing Bag from MTN.
What a lovely from MTN social bundles, is that the pack an event based data bundle that allows you enjoy access to your favorite social media apps such as Facebook, Eskimi, WeChat, 2GO, WhatsApp, YouTube and Instagram at unbeatable rates.
MTN GoodyBag is Back
You will be able to subscribe to a social media plan for as low as N20 daily, N50 weekly and N100 monthly or buy All Social Bundle plan to access Facebook, WhatsApp, Instagram, WeChat, 2GO, and Eskimi for N50 daily, N100 weekly and N250 monthly. You can also buy a special social bundle to stream on YouTube & Instagram only as cheap as N100.
Who Is Eligible For GoodyBag Bundles?
All MTN Customers are eligible to enjoy the Social Bundles.
The greatest thing for the MTN GoodyBag is that you can use the MTN 4G LTE to surf the plan. Meaning it works really fine on MTN 4G+ network.
Below are the plans for the MTN GoodyBag weekly data bundle plan with 7days validity period.
The GoodyBag comes with a lot of consideration in the package, this include considering customers that will like to combine many social bundles in one single subscription. And here are the plans by MTN.
| | | |
| --- | --- | --- |
| S/N | Bundles | Type |
| 1 | YouTube & Instagram | All tariff plans |
| 2 | All Social Bundles (WhatsApp, Facebook, Instagram, 2Go, WeChat, and Eskimi) | All tariff plans |
| 3 | Whatsapp & Facebook | BetaTalk Customers only |
The Bundle subscription rate are as follow
Single social bundle (MTN GoodyBag)
All Social Bundles
YouTube & Instagram Only Bundle
WhatsApp & Facebook Bundle
Daily plan – N25
Weekly plan – N50
Monthly plan – N150
Daily plan – N50
Weekly plan – N100
Monthly plan – N250
Daily plan – N100
Daily plan – N25
Weekly plan – N50
Monthly plan – N100
Note that fair usage policy applies as follows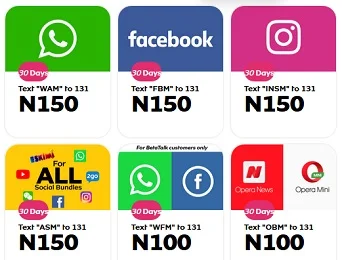 How to Subscribe
To access Social Bundle, simply dial *131*3#. This will display all the available Social plans.
How do I Check my MTN GoodyBag Data Balance
To check your Social Bundle balance, dial *131*4#
Note that GoodyBag works for you ONLY on the social network or instant messaging services that you have subscribed to. E.g. Subscription to Facebook, WeChat and WhatsApp bundles will only grant you access to Facebook, WeChat and WhatsAPP respectively. And you can't browse with normal browsers for surfing the internet.
MTN Opera Mini Bundle on MTN GoodyBag
Opera Mini Bundle is an event based data bundle that allows customers enjoy access to all their favourite contents except streaming and downloads on Opera Mini browser and Opera News apps at unbeatable rates.
All MTN customers who have Opera Mini and Opera News apps installed on their phones are eligible to enjoy the MTN Opera mini for as low as N20.
And to enjoy the plan, simply dial *131*3# and selecting the Opera Mini & News
Remember that on this plan you would only be able to browse textual and pictorial contents, but you will not be able to stream videos and download contents with the bundle.
In summary, see the MTN GoodyBag Plan in the table below
Bundle Type
Plan
Price per App
Apps
Opt-In Autorenewal SMS to 131
Opt-out Autorenewal SMS to 131
Single Social Bundle (GoodyBag)
Social Bundle Daily (GoodyBag)
N25
WhatsApp
RWAD
STOPWAD
Facebook
RFBD
STOPFBD
Instagram
RINSD
STOPINSD
2Go
R2GOD
STOP2GOD
WeChat
RWCD
STOPWCD
Eskimi
RESKD
STOPESKD
Opera Mini Daily
N20
Opera Mini & Opera News App
ROBD
NOOBD
Social Bundle Weekly (GoodyBag)
N50
WhatsApp
RWAW
STOPWAW
Facebook
RFBW
STOPFBW
Instagram
RINSW
STOPINSW
2Go
R2GOW
STOP2GOW
WeChat
RWCW
STOPWCW
Eskimi
RESKW
STOPESKW
Opera Mini & Opera News App
ROBW
NOOBW
Social Bundle Monthly (GoodyBag)
N150
WhatsApp
RWAM
STOPWAM
Facebook
RFBM
STOPFBM
Instagram
RINSM
STOPINSM
2Go
R2GOM
STOP2GOM
WeChat
RWCM
STOPWCM
Eskimi
RESKM
STOPESKM
Opera Mini Monthly
N100
Opera Mini & Opera News App
ROBM
NOOBM
All Social Bundles
All Social Bundles (Daily)
N50
WhatsApp, Facebook, Instagram, 2Go, WeChat, and Eskimi
RASD
NOASD
All Social Bundles (Weekly)
N100
WhatsApp, Facebook, Instagram, 2Go, WeChat, and Eskimi
RASW
NOASW
All Social Bundles (Monthly)
N250
WhatsApp, Facebook, Instagram, 2Go, WeChat, and Eskimi
RASM
NOASM
YouTube & Instagram ONLY Bundle
YouTube & Instagram (Daily)
N100
YouTube, Instagram
RYIB
NOYIB
WhatsApp & Facebook
WhatsApp & Facebook Daily
N25
WhatsApp, Facebook
RWFD
NOWFD
Bundles (Beta Talk Customers Only)
WhatsApp & Facebook Weekly
N50
WhatsApp, Facebook
RWFW
NOWFW
WhatsApp & Facebook Monthly
N100
WhatsApp, Facebook
RWFM
NOWFM