It's no more news that you can now get free data bonus on almost all network. This is not a cheat or any hidden trick but legitimate ways to get free data bonus.
This post is just an integration of articles on my browsing tips archive, that explains on how to enjoy free data bonus on your SIM.
How to get up to 2GB Free Data Bonus on Airtel, MTN & Glo
Get 2GB free data on MTN via (My MTNApp)
Here is first of its kind from MTN, to tell their users to invite friends and get free data in return as an award. Then, I don't want my site readers to be left out of this free offer.
What is expected of you was just to tell friends to use the My MTNApp and get up to 2GB data. Another similar package is the Airtel Binge and Glo splash that gives 2GB and 1GB for as low as N200
When you download the MyMTN app, you'll be compensated with 500MB worth of free data, but MTN has just introduced a user-friendly referral program to all her subscribers and you have the opportunity to earn up to 2GB data for free
If a user of the MyMTN app invites another person, (the referral will get free 200MB and the person that refers to will get 500MB)
So if the referral invites up to (10 people) on his/her contact, the referral will get massive free 2GB of data instantly.
Free Data Bonus on Airtel
Airtel Free 1GB Data to All Airtel Users
Just like the MTN App free bonus of 2GB, Airtel Nigeria is offering FREE 1GB data through their Application MyAirtel to her esteem subscribers.
How to Get Free 1GB Data Via My Airtel App
All you need to do is to download the Android App of Airtel Google Play Store link.
Install and Launch the App, make sure your Airtel sim is on your phone before launching the app
Register your Airtel number on the app, an OTP will be sent to your line and confirmed automatically
After that you will receive an SMS notification, that reads that you have received an Airtel app bonus data as shown on the screenshot below.
Then, you can dial *140# to see your free 1024MB of data!
How to Accumulate the Airtel 1GB Free Data
To accumulate this 1GB free data, you will need to own multiple Airtel registered sim cards. Use them to sign up on My Airtel app one after the other. Each of them will be eligible for the free 1GB data
Cheap Data Plan
Here is how to enjoy Glo Weekend Data Plan 1.25GB for N200
Glo just introduced a data plan known as Sunday Data or Glo Weekend Data Plan. The data plan offers 1.25GB for just N200
This is first of its kind from Grandmaster of Data in the country. Glo once introduced Glo Slaph that offer up to 2GB for just N300.
Glo Weekend Data Plan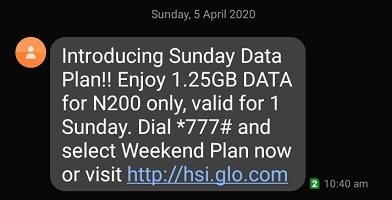 The Sunday data comes with a validity period of 1day. The data plan was emergency launched for the coronavirus if am right. The question is how long will the data plan last.
Glo 20% Data Plan for been Stay at Home
In the same vein, Glo is offering its customers more data on their subscription made during this Stay Home period of coronavirus.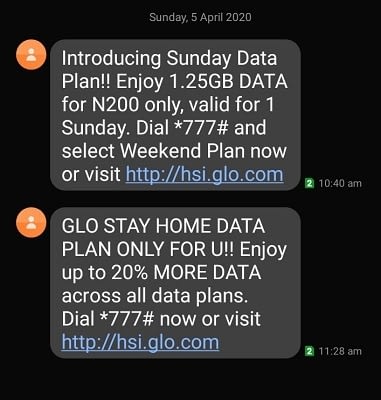 How to enjoy this Glo Weekend Data Plan & 20% More Data
Dial *777* and select your prefered plan, be it daily, weekly, Monthly and much more from the stable of Glo
Meanwhile for the Weekend Plan dial *777# and select Weekend Plan
Recommended Articles for You