Airtel Night Data Plan is a bi-product of Airtel Smarttrybe. The package that offers 250MB data bundle from 12 AM to 5 AM for all Airtel Users.

SmartTRYBE is specially designed to keep you connected with everything that's up with your Trybe!
How to Activate Airtel Night Data Plan
To benefit from the Airtel Night Data Plan, you need to migrate to SmartTRYBE by dialling *312#.
Meanwhile, the Airtel Night Data Plan can only be purchased once a night.
How To Migrate SmartTrybe & Enjoy Airtel Night Data Plan
If you are not in this Airtel tariff plan you wouldn't enjoy Airtel Night Data Plan. This implies that before you subscribe for Airtel Night Data Plan browsing. You must be on SmartTrybe platform.
Dial *312# then select 1 to"migrate" to the SmartTrybe
How To Subscribe For Airtel Night Data Plan of 500MB & 1.5GB Night
Dial *312#, a menu will pop up
Then reply 3 to get the Trybe offers.
Now, Press 1 to subscribe for the N25-500MB.
Then Press 2 to subscribe for the N200-1500MB.
Given data is Valid for 5 hours (12 am-5 am). Once it is 5 am of the day of subscription, unused data will be taken back. Remember that this data plan can't roll over or be renewed.
MTN Data bundles have been revamped to be affordable, giving you more value for money and excellent internet experience on the MTN data network.
All MTN Customers can subscribe to any MTN Data bundle and subscribe for these Best and Cheapest data plans.
Dial *131*1# or *904# and select your preferred data plan

Airtel Data Plans (Daily and 2days Plans)

Currently, Airtel is dolling out Free 3GB data to all its customers, you can check that out here
Airtel also announced its Best and Cheapest Data Plans in the Special Airtel Binge Plan. The plan offers subscribers a whopping 2GB and as well as 1GB data for just N500 and N350 respectively.
The plan is fair for downloading, even though its not really much, but at least its still okay for quick use.
Advantages of Airtel Binge Data Plan.
Fast for downloading as it is otherwise known as the "download plan".
Affordable for purchase
Instant use purposes.
Speed and data quality
How to Activate Airtel Binge
Simply Dial *141#
Choose option 3
And select any from the Binge plans available.
You can also use this direct code *141*504# to activate 2GB for N500.
Ensure you have up to 500 worth of airtime before you activate.
Note:
The validity period is the same as the 1GB of N350, this new 2GB for N500 is also valid for just 24hrs. Watch this clip and see more comments on this plan
The validity period is the same as the 1GB of N350, this new 2GB for N500 is also valid for just 24hrs.
Glo Data Plans (Daily and 2days Plans)
Glo launched a new plan of 17GB for N3000 and the Cheapest Glo Data Plan with 12GB & 750MB Free Night Browsing (See its Code)
Glo is currently trying to win the heart of their customers back with blooming plans of the package both on data and Airtime plans.
| Plan Name | Price (N) | Data Volume | Validity |
| --- | --- | --- | --- |
| Daily Data Splash 300 | 300 | 1GB | 1 Day |
| Daily Data Splash 500 | 500 | 2GB | 1 Day |
How to activate Glo Data Splash (daily)
Dial *777# or visit hsi.glo.com to buy and manage subscriptions (Applicable to mobile devices Using the Glo Bolt Internet service).
9mobile Best and Cheapest Data Plan
The better is here as I once said in one of my last posts. we can now enjoy cheaper data from our network providers just like this 9mobile 1GB for N200.
9mobile 1GB for N200
With N200 you can now enjoy 1GB for just N200 and extra live streaming bonus courtesy of 9mobile.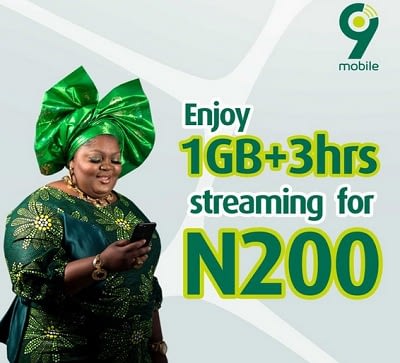 It is not more news that on 9mobile, you can get 9X times to recharge bonus to call all networks. Glo tailor this path with Glo Amebo that gives 5X times bonus on every recharge made.
9mobile won it all with the 3hours free streaming, this data will not be charge main 1GB data of N200.
To activate the 1GB plus free 3 hours streaming for N200
Your 9mobile SIM must be newly bought or old SIM that is not more than 3 months of its last usage. Recharge it with N200, then:
Dial *253*20# for the plan activation
You will receive the 1GB and the free bonus of 3 hours to surf the video like sites like Youtube, Mobdro
The more good news was that the data works for 2days just like the aforementioned MTN plan.
To check your data balance dial *228#