Glo came up with another tariff plan with 11kb/sec this is the Glo Cheapest Call rate with service charge just like the popular Glo Gbam. On the Global Comm website also comes the Glo Data Offer of 1GB Data for N300. Glo Cheap Call rate 11k/s and more will be discussed here.
I knew people still prefered the Glo Amebo that gives a lot of voice bonus of up to 500% on recharge above N100. But with this new Glo Cheap Call rate 11k/sec, price plan allows Glo customers to call all networks in Nigeria at 11k/sec after deduction of N7 on the first call of the day.
The Glo Cheap Call rate 11k/sec plan package is for all new and existing Glo prepaid customers who migrate by dialling the code *311#
The Glo Cheap Call rate 11k/sec with Data Offer
As said above for you to enjoy Glo Cheap Call rate 11k/sec plan, simply dial *311# and you are migrated to Glo 11k per sec plan where you enjoy 11k/s to all networks in Nigeria.
The SMS rate for on this Glo cheap call rate 11k/sec plan are as follow

On-net SMS: N4/SMS
Off-net SMS: N4/SMS
International SMS: N35/SMS
Note: The standard migration rule will apply. i.e First migration in a month is free. Subsequent migration within the same month is charged at N100.
Glo Data Offer of 1GB for N300
Glo as the first indigenous private Telecommunication company in the country is currently trying to lure the heart of their customers back with blooming plans of the package both on data and Airtime plans. The Glo Splash that gives Data offer of 1GB for N300 comes as an alternative to Airtel and MTN, that will be discussed shortly below.
Glo Splash Data table
| Plan Name | Price (N) | Data Volume | Validity |
| --- | --- | --- | --- |
| Daily Data Splash 300 | 300 | 1GB | 1 Day |
| Daily Data Splash 500 | 500 | 2GB | 1 Day |
dail *777# for the special data
The Special Data Plan for Airtel users, Getting Airtel 1GB for N200
This plan have be on for years now, but many people do not know, including myself not until I got a message that I should enjoy this Awoof data plan of by Airtel themselves: And coming of the Glo Cheap Call rate 11k/sec, let take about data
N100 for 200MB of data for 1day
N200 for 1GB data for 7 days
Airtel 2GB data for N500 with 14days validity period
4GB data for just N1000 and comes with 30 days validity period and
6GB for N1500 for 7days usage period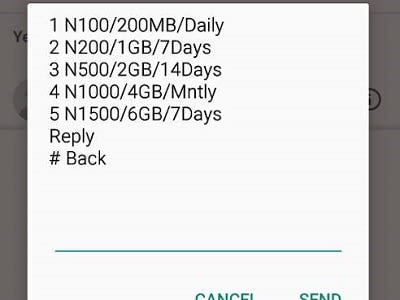 How to Activate Airtel 1GB for N200
You can activate by checking your eligibility on Airtel 1GB for N200, 4GB for N1000, 2GB data for N500. The activation code for Airtel 1GB for N200 is *141*241#. As I said the data plan is a special one, so you may not be eligible, but I know 99% of Airtel SIM's will be eligible. Read more here
How to Activate MTN4Me & Get MTN 1GB for N200, 1.5GB for N300
MTN4Me can be activated by all MTN prepaid users. It's a unique platform that provides you with special offers across multiple categories.
This article is quite different to my popular post on how to get MTN 1GB Data for N200, and the one of getting MTN 1GB for N100.
The Unique offers on MTN4Me platform to benefit you
Top Deals 4ME
Data Offers 4ME
COMBO Bundles 4ME
Recharge Offers 4ME
If you take notice of my chosen words, I laid emphasis on unique offers. This was because MTN data offer 4ME are unique per customer and provide the best value for you on the MTN network.
It gives you cheap data at a very affordable discount, you can get MTN 10MB for N2 and 75MB for N20, it offers 200MB for N50, 1GB for N200, 1.5GB for N300. Also, you can get as much as 10GB for N3500, 6GB for N2000, depends on the data plan made available to you (this means, the offers available to Mr. A might be different to Mr. B, C, ….. Mr. Z
The Code for MTN4me
Dial *121# on your mobile phone.
After realizing that over 50% of people preferred data to voice bonus, then let forget about the Glo Cheap Call rate 11k/sec. And share on how to enjoy free MTN data.
Here are three (3) ways to enjoy free data up to 10GB on old MTN, getting up to 2GB for using MTN App and lastly MTN referral bonuses. Read all these and more here now