This write up will be bi-purpose, in one part I will share my taught on Latest Best Cheap Phones and as well as the Essential Tips For Buying a Phone in Nigeria from the various online stores. So you are very assured for the best deal in your purchase.
Tips For Buying a Phone in Nigeria in this new Era Artificial Intelligent (Al)
This year's alone numerous promotional offers had been done by major online stores in Nigeria notable among them was Konga Phone Mania and Jumia Mobile Week wish was bigger with lots of amazing deals! Meanwhile, watch out for the Jumia Anniversary celebration with vibrant offers this year.
Just before you decide on what brand of mobile device you should buy, here are some important considerations to contemplate before your next smartphone purchase.

Best Battery Life for Smartphone
The life of a phone is the battery. So, before purchasing that phone you've always wanted, you should ask yourself these questions: Am I the kind of user who is likely to have multiple apps open at the same time? Do I see myself being a heavy consumer of video-streaming apps or playing games? Heavy online usage tends to drain batteries faster. If you belong to this category of users, then it is better to go for a phone with 5000 mAh and above the battery. Your battery will go all day, and last all night…literally!
Storage Capacity
With the rate of daily video, music and document downloads, the storage capacity of some phones may not be enough. Hence, you have no choice than to buy an external memory card, for phones that allow such. You can eliminate the extra cost of buying an external storage card by buying a phone with enormous storage capacity. A phone storage capacity of 32GB, 64GB, 128GB and even 256GB is perfect for you. Don't worry, the prices are pocket-friendly!
Camera Spec
There is a lot of hype surrounding in-built cameras on phones with brands trying to outdo each other by improving the quality and size of the megapixel. However, megapixels only don't produce better images. Good quality photos are a function of factors like ISO levels, aperture as well as the speed of autofocus. If you are likely to take a lot of pictures, then go for a phone with a 12MP or 16MP camera that has an aperture of f/2.0 or lower, for good results even in low light. With this type of camera, it will not only capture your moment but also capture every moment.
Screen Size
The bigger, the better. The size of a mobile phone screen is either given as an inch measurement or as a pixel measurement. The standard screen sizes of mobile phones available today can be anywhere from 4 inches to 6 inches diagonally. It is better you go for these sizes. If you love to watch movies on your phone, then consider buying a phone with a bigger screen.
Compare Prices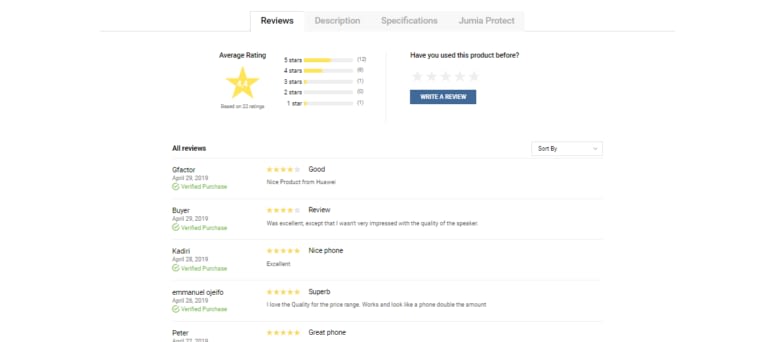 Don't buy the first phone you see just because it's cool and within your budget. If you find a particular brand you like, check several other sellers to see if there's a price variation; there might be a seller offering a cheaper price – that way, you make some savings. Look out for the sellers' scores, and only buy from sellers with 3.5/4.0 and above score rating. Pay attention to other customers' feedback on the sellers, those are the ones who had bought from the same seller you're just about to buy from.
Payment Method
In addition, Jumia is offering the discount you will enjoy on each phone, at the checkout point, you can also enjoy an extra 5% discount if you pay with Jumia Pay. However, this extra discount is not available to customers who pay on delivery. So, you might want to think about what extra 5% savings will do for you – probably enough saving to buy data for your subscription? Weigh your options.
Free browsing tips powered by Kinfoarena.com
In the aspect of browsing tips, Kinfoarena got you covered, read all my post on the free browsing and cheap browsing tips here now ranging from!
This year's Mobile Week and was tagged "Game of Phones", so do you wanna play? If you find any phone that meets all your requirements as stated above, do not delay. Order it just immediately. Limited stocks are available. Check Out the deals offer Now Here
Latest Best SmartPhones in Nigeria
Samsung
Samsung has a phone for every pocket. For as low as N26,990, you can buy the Samsung Galaxy A2 Core 5″ and for as much as N380,000, you will get the Samsung Galaxy S10+ 6.4″ AMOLED. And of course, wait to see the list below!!!
Nokia
One thing that most people loves about Nokia is that the phone is rugged. An interesting addition is that Nokia phones are now smart/trendy. So check out the list of Nokia gadget or device below
Gionee
Chinese Phones have really come a long way. Today, not only are Chinese mobile phones advanced, they are extremely affordable. This is the case with Gionee. Gionee has all you need in a smartphone.
Huawei
Huawei is one of the biggest phone manufacturers in the world. It has become a global brand despite being a Chinese owned company. Like Samsung, it has both high end and low end.
Apple
Apple is everything you want in a phone even though it is more of a high-end phone. Prices range from N50,000 and above. This said, how does 20% off an Apple phone sound? Sounds really good! This is one of the deals you get out of the most Online stores.
Tecno
The list will not be complete if I don't mention Tecno-mobile, it's one of the leading smartphones in Nigeria market. its has been relevance in Africa market for more than a decade. Looking for a budget smartphone, then Tecno got you covered with and not limited to
Low Budgeted Infinix SmartPhones in Nigeria
Other Infinix Smartphone with affordable price and mid-ranged specification also includes!!!
I believed I have done justice to some most common low and cheap best smartphones in the market.
Please use the comment box below to give you suggestion on your opinion.