Smartphones Battery Life is one of the most essential things to be considered when buying a new phone that will serve you for long. In the post, I will be sharing with you all the working tips in prolong battery life and as well as discussing on the remedy to battery been drain even while on charge.
The below-listed brands lead the race of best phones with a high battery capacity currently as at the time of making this write-up in Nigeria market.
Prolong battery life by avioding battery drain while on the charge
Check out the capacity of those phones listed above here Today, I will like to share some of the tips that help in prolong the usage life of Phone battery. Follow the following steps to avoid battery drain.
1. Sometimes our smartphone battery is drained due to some Applications that are working in the background. Let see the Image below

Useful Tips to Prolong Your Phone Battery Life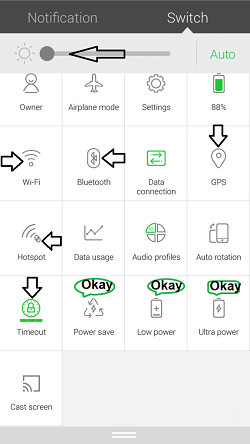 The Image indicated with Arrow are some of the settings on our phone that uses a lot of battery life, you should turn them off when not in use.
Turn down the brightness and turn off Automatic Brightness. It's probably obvious at this point, but you'll be surprised by how much this one alone helps to improve battery life.
Reduce email, Twitter, and Facebook polling. Set your various messaging apps to "manual" for the polling or refresh frequency, just as a test, and you'll instantly extend your device's battery life by a significant amount. Once you see what a difference that makes, try re-enabling just the most important ones, and possibly reducing their polling frequency in the process.
Useful Tips to Prolong Your Phone Battery Life
[padding right="5%" left="5%"]